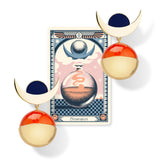 Milk Tooth LDN
Dimension statement earrings
Be the Queen of your own realm in these magnificent compact dangly earrings.
Named Dimension, the design symbolises a higher plain of salvation. The earrings indicate great enlightenment. They will draw out your inner knowing and power.
The earrings are 3cm wide and 4.5cm long, sitting snuggly just under the earlobe to enable a gentle sway. The earrings are surprisingly light, made up of a hollow ball - half marble dripped burnt orange enamel, half cupped by 18ct gold. The stud is also plated with 18ct gold and encloses a navy enamel half moon shape.
The jewellery is nickel free and safe for allergies. They will arrive beautifully packaged, ready to present as a gift or treasure yourself.