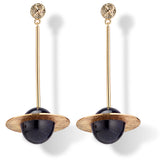 Milk Tooth LDN
Formation statement earrings
A sleek and simple planetary dangly earring in gold and shimmering navy.
Named Formation, the design symbolises your home for now. The earrings indicate the being still in a midway space. They will hearten you in enjoying the now, but remind you to remain alert for opportunities to raise your consciousness in further chapters ahead.
The jewellery is nickel free and safe for allergies. They will arrive beautifully packaged, ready to present as a gift or treasure yourself.
These lightweight earrings have a pleasing circular motion when moved. A straight simple gold pole holds a glitter-filled resin navy planet surrounded by a textured gold ring. The stud features an embossed icon.
The earrings are 18ct gold-plated and sized 2.5cm at their widest and 6.5cm from top to bottom.